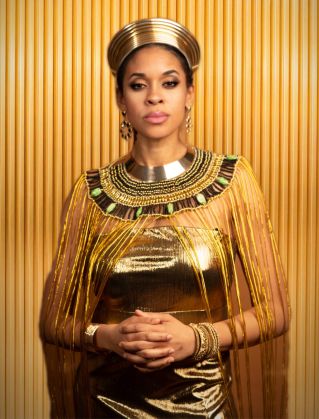 About the Playwright
April Dae Okpwae is a performer, playwright, & community organizer who utilizes comedy to highlight the diversity of black identity while exploring the intersectionality of faith & religion in racial, economic, & gender inequities. Her 15-character solo show, I'mma Do Me, satirically exposes the impact of poverty in America and has won several awards including Best Emerging Actress at United Solo Theatre Festival in NYC, Best Short Play at Atlanta Black Theatre Festival, and Festival Favorite at the DC Black Theatre Festival.
She is the composer, book writer, & lyricist on her latest work in development, Queens of Solomon. Queens of Solomon was involved in Musical Theatre Factory's , brings together the traditional musical theatre canon with the music of Hip-Hop, gospel, R&B, & afrobeats to re-examine this biblical story as both a celebration of black women and a tool used in religious communities to perpetuate the patriarchal oppression of women.
As a community organizer for the past 15 years, April Dae has worked in black & brown communities throughout New York City and Detroit, MI conducting performance-based development workshops. She is a founding board member of BlackCount, an arts-based voter education, engagement, & advocacy organization. Born & raised in Detroit, April Dae received her BFA from SUNY Purchase performing in television, theatres, & universities throughout the country. She is a mother, wife, believer, and celebrator of all things blackwomandom.